FORSYTH, Georgia (41NBC/WMGT) – A Forsyth man is accused of having a stolen trailer from Bibb County.
The Monroe County Sheriff's Office said investigators found the trailer at Scott Bogulski's home in Forsyth. Investigators used the trailer's GPS tracking system to find it in the Sunset Terrace subdivision.
Deputies used the victim's description to identify the trailer in Bogulski's driveway. Deputies named Bogulski as a person of interest because the trailer was found at his home.
After Monroe and Bibb deputies served a search warrant on the trailer, Bogulski declined to cooperate with the investigation and was taken into custody, according to a news release from the Monroe County Sheriff's Office.
Bogulski is charged with theft by receiving stolen property and criminal use of an article with an altered identification. The trailer was given back to its owner. Bogulski is being held in the Monroe County Jail waiting for a bond hearing.
He's been accused of stealing enclosed trailers from a high school, a cattleman's association and a fire department, and now Forsyth Facebook ranter Scott Bogulski is accused of stealing one from a Centerville church.
Bogulski, 40, was arrested last Tuesday, April 12, for the fourth time in two months, this time in Monroe County after evidence arose that Bogulski removed a VIN number from a stolen trailer before selling it to a Boxankle Drive resident. The Monroe County Sheriff's Office circulated photos of the enclosed trailer on April 9 after John Scheu of 4640 Boxankle Road called deputies to verify the VIN number on the trailer he had bought. Cpl. Luther Williams of the Monroe County Sheriff's Office was dispatched to Scheu's home last Saturday, April 9 after Scheu called for help in registering his trailer. Upon arrival, Williams noted that the VIN numbers had been scratched off the trailer. Suspicious, Williams called for Inv. Lawson Bittick to determine what had happened. Bittick posted photos of the trailer to the sheriff's office Facebook page asking the public if they could identify the trailer as theirs. Bittick said he got about 60 calls, but said he finally contacted Westside Baptist Church in Centerville where pastor Chuck Lewis was able to describe identifying stickers on the trailer. Church secretary Vicki Sutton said the church uses the trailer for trips and ministry, such as giving away backpacks to needy schoolchildren. She said they had sent out a church-wide email when it went missing in January thinking that a church member may have borrowed it. When no one responded, they reported it missing to Centerville police.
The trailer has been now been returned to the church, which has about 200 members.
Bogulski was charged last Tuesday with felony theft by receiving stolen property, theft by deception and felony criminal altering of an ID. He was released on bond. Magistrate Judge Buck Wilder could not revoke Bogulski's bond from a previous arrest in March because he was accused of crimes that happened before the March bond was set.
Lamar County authorities had named Bogulski a suspect in the case of a trailer grill stolen from Lamar County High's football stadium following the Lamar-Mary Persons game last fall but haven't issued a warrant.
Bogulski is now considered a suspect in several other thefts in Middle Georgia. That includes the case of the $2,000 barbecue trailer grill stolen from the Mary Persons Booster Club at Dan Pitts Stadium between March 15-25 last year. The thief cut the chain at the concession stands to steal the grill and trailer. No arrests were ever made and the grill was never recovered.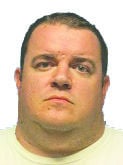 Bogulski was originally arrested Feb. 19 by Monroe deputies and charged with receiving the enclosed trailer stolen from the Georgia Cattlemen's Association office in Bibb County. The trailer contained a GPS tracker and authorities said they used it to locate the trailer at Bogulski's home.
Bogulski has two prior theft convictions, the earliest one having been removed from his record as he pled under the first-offender program. He gained notoriety through his acerbic posts on his Facebook page Forsyth-Monroe County Nuze. Shortly after bonding out of jail, he posted there on April 14: "Sure has been a bumpy ride lately. I'm sure that when it's over it won't be quite the story that's been given. Sooner or later press releases and play by play give way to facts."